Undoing the arrangement
When you look back at a series of paintings, it can be hard to know where it started. One day in October 2014, I was playing around on the canvas with an arrangement of flowers I'd found on twitter, when I heard that the tenant in my cottage had given notice. In that moment, my plans for the next year were upset. I scrawled the word "disrupted" across the middle of the painting and let my disrupted emotions produce this energetic mass of blooms, collage and marks.

Then follow eight smaller works on canvas. The two ripped paintings result from a similar disrupted energy, and from experiments with collage. I made copies of enlarged photographs of flowers to fill the square canvas. I painted with grey around the blooms, in a reference to my earlier 'Enid' paintings. When the collaged paper refused to stick properly, I began pulling it off and found that the ripping left interesting shapes, textures and colours. I painted colour into this remainder. The finished works emerge from this process of adding, taking away and noticing.

The six exploding flower paintings began their life in New Zealand in February 2015. In a closing down sale, my eye was caught by a book with glossy photos of luscious flowers, Simple Flower Arranging. I've always had an ambivalent relationship with flower arranging, and as a young woman rebelled against being taught how to do it. The front cover told me the arrangements were not only simple but also quick and easy. Looking inside, I could see they involved no end of work: finding or growing the flowers, 'plucking' them from the garden, and placing them in one of a collection of 'interesting containers'. In the book photos, the flowers are almost lost in piles of fruit or vegetables, coloured backgrounds and rustic implements. I had found a mission - to liberate the flowers from the arrangements.

The flowers were cut out of the arrangements, allowed to separate and explode into new arrangements, then printed and painted. The cut out remainders inspired background shapes against which the flowers leap back into freedom. Titles for the paintings are taken ironically from the text of "Simple Flower Arranging".
Random, found shapes contrast with the carefully made square canvases, with straight lines and controlled use of colour. Hard-edged background shapes contrast with explosions of rough, heavily textured, singing colour, laid on top. The colour palette chosen under the strong light of late summer in New Zealand is retained in paintings made under the weak sun of an English spring.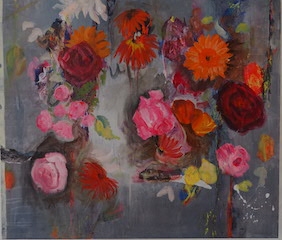 disrupted
acrylic and collage on canvas
60 x 70 cm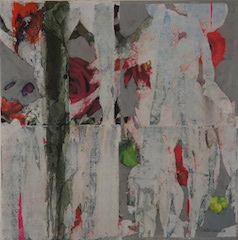 Time with roses
acrylic, collage, déchirage on canvas
40 x 40 cm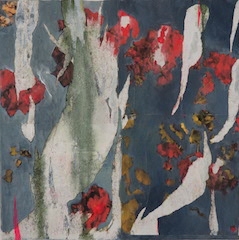 One foot in front of the other
collage, déchirage, acrylic on canvas
40 x 40 cm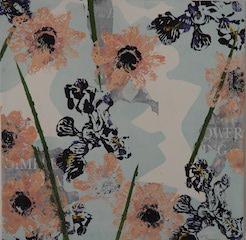 A bold collection of irises and anemones will never fail to please
acrylic and collage on canvas
40 x 40 cm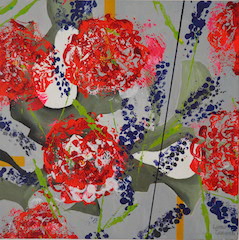 The smell of lavender will fill your home
acrylic on canvas
40 x 40 cm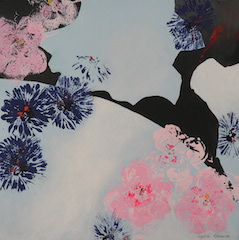 Just a couple of blooms plucked from the garden make a simple but dramatic display
acrylic and collage on canvas
40 x 40 cm
SOLD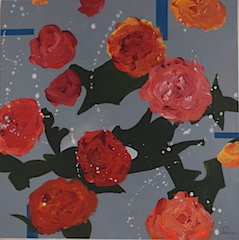 Clever use of flowers and greenery will transform your house into a home
acrylic and collage on canvas
40 x 40 cm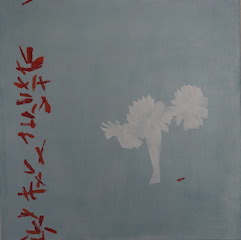 Who could ignore these striking gerberas?
acrylic on canvas
40 x 40 cm
available from Tig Gallery, Tighnabruaich, Scotland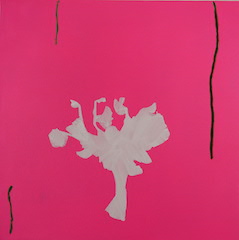 A mass of pink looks heavenly on its own
acrylic on canvas
40 x 40 cm
available from Tig Gallery, Tighnabruaich, Scotland
Still undoing the arrangement
collage, gesso, déchirage and acrylic on canvas
60 x 60 cm